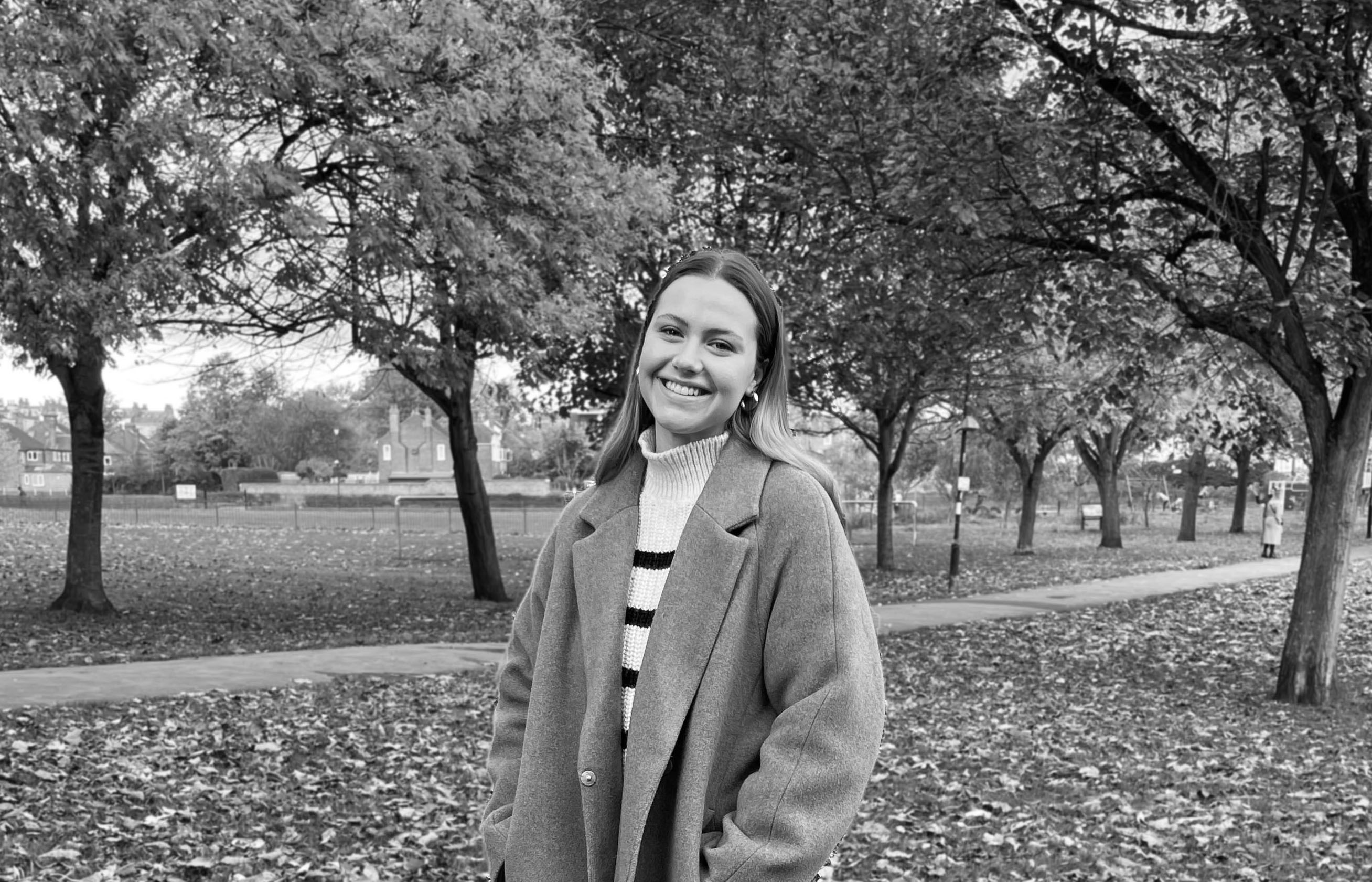 Mergers and Acquisitions in Pharma and Medical Devices 2022
Global Mergers and Acquisitions often indicate activity in specific sectors. Over the last three years there has been a huge impact from both Covid 19 and associated constrictions of market and changes in work practices and behaviour in general.
Perhaps as a result of remote working and the drive to online commerce, technology, media and telecoms (TMT) dominated global M&A activity with 3,006 deals worth $273 billion in Q1 2022.
The packaging sector has witnessed a growth of 32% from Q1 2021 in terms of M&A deal value. However, all remaining sectors recorded a decrease in both deal value and volume in Q1 2022 compared to the previous quarter.
Regionally, North America has continued to dominate global M&A activity in Q1 2022, while China saw a steep drop-off in the same period.
The medical devices and pharma sectors have followed a similar trajectory over the last three years.
The global medical devices M&A market only saw four M&A deals in Q1 2022 with a deal size greater than $1 billion, compared to 11 such deals in Q4 2021. Healthcare IT, hospital supplies, and drug delivery devices were still the top three sectors in terms of the deal value recorded in Q1 2022.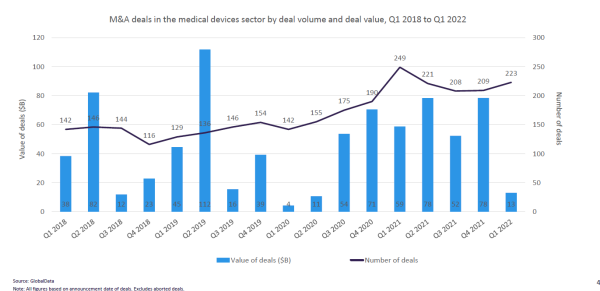 The pharma sector recorded 188 deals, accounting for a value of $18 billion in Q1 2022, a marginal increase in deal volume from 181 deals in the previous quarter.
The medical devices sector has seen some major M&A activity in Q1 2022 – in healthcare IT and in vitro diagnostics in particular with wearable technology and genomics showing significant activity.
The wearable technology market was already growing over the past few years. Recent investment in remote healthcare, AI and Big Data signal some big advances in products with a focus on diagnosis, treatment, monitoring and prevention.
Direct-to-consumer genetic testing has been a rapidly expanding market that continues to generate substantial amounts of revenue and public interest.
Healthcare company Dreamtech recently acquired Cardiac Insight in a $228M deal. Their products include a wireless patch, called Biosensor, that records its wearer's health data, while Cardiac Insight produces wearable electrocardiogram technology.
Investment firm Altaris Capital Partners, have acquired Intricon for $240M. Intricon's wearable products include wearable cardiac monitoring patches and continuous glucose monitoring systems.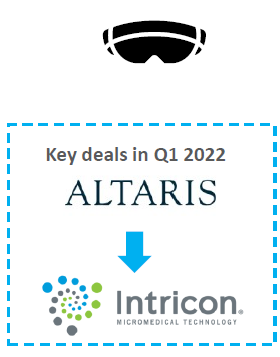 The genome sector is similarly active with Exact Sciences acquiring Prevention Genetics in a deal worth $190M so that their testing tools can support Exact Sciences' cancer testing products and enable earlier cancer detection.
AI-driven genomic and clinical data intelligence platform company Sema4 OpCo has acquired GeneDx for $623M with the intention that GeneDx market-leading genomic testing equipment will strengthen Sema4's offering.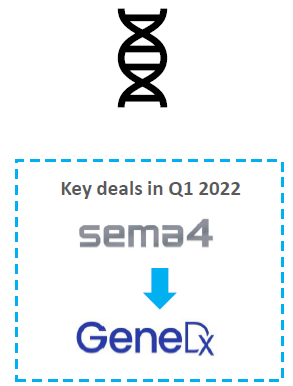 AI and Big Data also showed themselves to be instrumental in the development of some pharma M&As. Two key areas showed the biggest interest. Biosimilars (biologic products that are similar, but not identical to innovative products) provide more treatment options by increasing access to life-saving medications and potentially lowering healthcare costs through competition.
The other area to watch in pharma is orphan designated drugs. These are treatments for diseases so rare that sponsors are often reluctant to develop them under usual marketing conditions. Developing orphan drugs does not always offer an ROI for the research.
Biocon Biologics $3.34B acquisition of Viatris' biosimilars business looks like it will enable them to improve its strategic agility and operational efficiencies, while mitigating price pressures as the biosimilars industry grows.
Formycon's total acquisition of biosimilar candidate FYB202 and the 50% acquisition of FYB201 for $713M will strengthen their position in the market for biosimilars.
UCB's $1.9B acquisition of international biopharmaceutical firm Zogenic expands its position in the epilepsy market, adding the oral Fintepla drug currently being analyzed for use with rare epilepsies, to its portfolio.
Equillium, a clinical-stage biotechnology company, has significantly expanded its pipeline of novel immunomodulatory drug candidates with the $329M acquisition of Bionz Therapeutics. The lead drug candidates, BNZ-1 and BNZ-2 novel structured-domain peptides, are multi-specific inhibitors, addressing unmet needs across a range of immuno-inflammatory indications.
Both medical devices and pharma experienced a dramatic reduction in activity in terms of mergers and acquisition at the end of 2019 and especially in the first two quarters of 2020, clearly as the result of the pandemic. However, the reaction of the markets was not to simply return to the same profiles as before. The significant changes in healthcare delivery, focus and public health considerations have changed the environment completely.
Healthcare has been a relatively sound investment for dealmakers throughout the uncertainty around COVID-19. As the economy reopens, M&A looks to flourish as the NHS deals with post-pandemic waiting lists, the use of technology and data analytics grows and opportunities for business-to-consumer healthcare rise.
However, the most recent figures are showing a levelling off in Q1 2022, perhaps as a result of China's recent significant lockdowns only now allowing their economic recovery.
That said, the deal processes are looking competitive and the returns on investment are high. Many of the long-term drivers supporting growth, as well as the need to revive and reshape healthcare provision following the COVID-19 pandemic, are expected to see the medical devices and pharma sector continue to attract sustained interest from private equity and strategic investors alike.